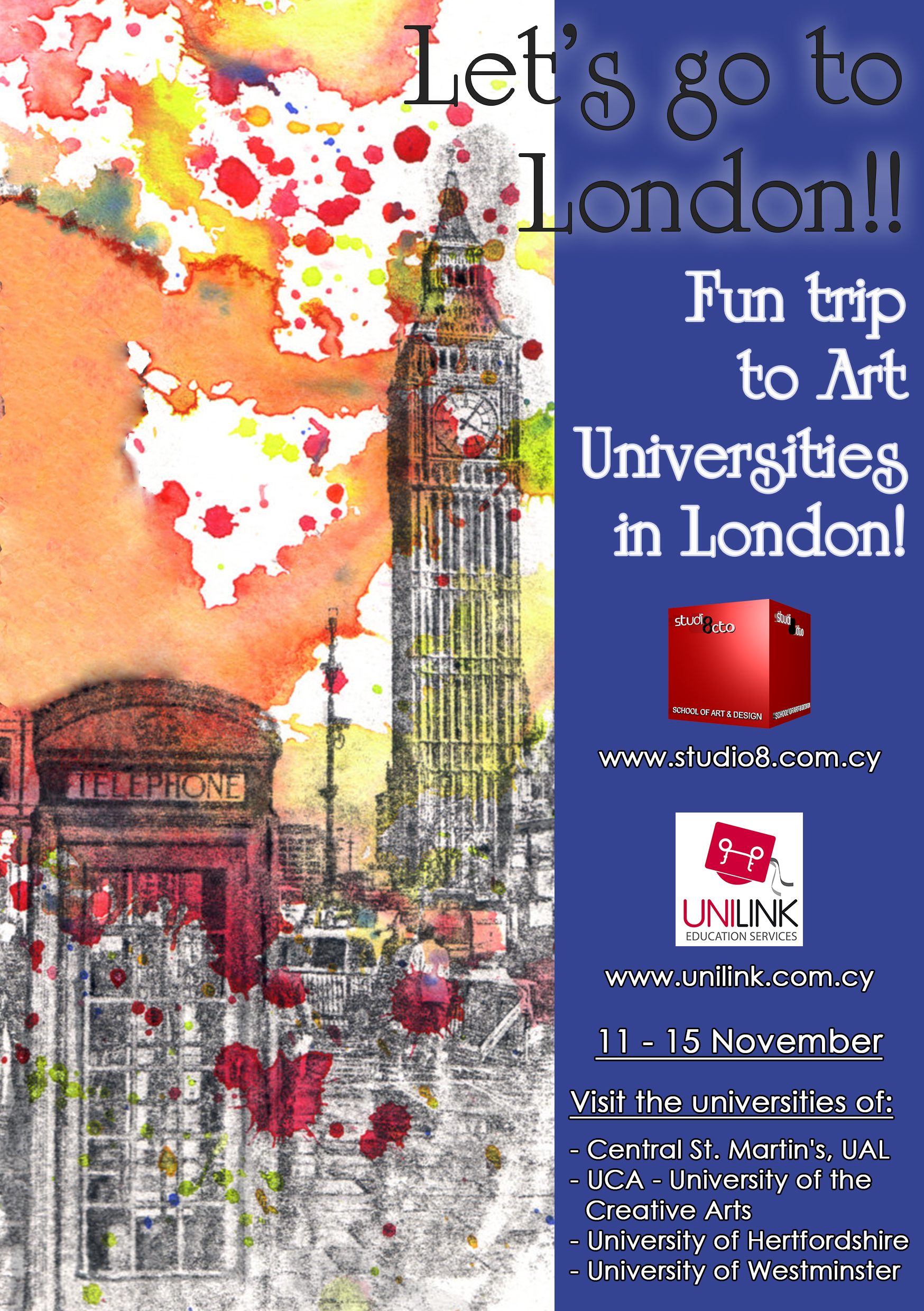 Fun Trip to Art Universities in London
Unilink and Studio 8 are the organizers of the 'Fun Trip to Art Universities in London'.
This will take place on the 11 – 15 November 2017 where students accompanied by Unilink / Studio 8 staff will travel to London in the United Kingdom to visit the following universities:
Central St Martin's (University of the Arts, London) – http://www.arts.ac.uk/csm/
UCA – University of the Creative Arts (Farnham) – http://www.uca.ac.uk/
University of Hertfordshire – http://www.herts.ac.uk/
University of Westminster – https://www.westminster.ac.uk/
Purpose
The purpose of the Fun Trip is for students to experience the traveling, see Central London and more importantly see in person what university life is all about and what potentially studying a course in the field of the Creative Arts can actually offer them.
They will be given University campus tours, see the departments and facilities, speak to academics and meet current students that are studying courses related to the art sector.
They will meet students studying courses such as Fashion, Graphic Design, Fine Art Architecture, Photography and many more.
More importantly they will get an idea about the university way of life and what it is like studying in the UK.
Participants will see Central London by visiting Leicester Square, Piccadilly Circus, Covent Garden and go shopping in Oxford Street and Regent Street.
Furthermore, seeing London without visiting Madame Tussauds is like not seeing London at all, so participants will also have the pleasure to rub shoulders with many of their favourite stars and personalities.
They will even be able to take photos with characters from Star Wars, with stars like Michael Jackson, Arnold Schwarzenegger, and Madonna, as well as personalities such as Donald Trump, Nelson Mandela and Barrack Obama.
Schedule
Saturday 11 November 2017 – Departure from Cyprus
Sunday 12 November 2017 – Visit Central London including Madame Tussauds
Monday 13 November 2017 – University visits (Timetable and destinations TBC)
Tuesday 14 November 2017 – University visits (Timetable and destinations TBC)
Wednesday 15 November 2017 – Departure from London
A more detailed schedule and timetable will be provided on this page closer to the departure date.
Cost and Fun Trip package
The Fun Trip will cost €1,190 which includes the following:
Return flight tickets includes hand bag and 20kg hold luggage
4 nights accommodation bed and breakfast
All airport transfers
All train and underground travel for the whole period of the Fun Trip
All other transport where necessary
Madame Tussauds entrance fee
Procedures with Terms and conditions:
1. Participation forms are accepted on a First come First served basis as places are limited
2. Participants must have turned at least 16 years of age by the 01st November 2017
3. The Participation form is completed in full and submitted to either Unilink or Studio 8
4. On submission the Participation form is accompanied with a €300 non – refundable deposit
5. Participation deadline is 25th October 2017 subject to place availability.
6. A copy of the student's valid travel document (ID or passport) must accompany the Participation form and deposit
7. Changing the name of the participant is NOT possible at any time
8. The balance of €890 must be paid by the 01st November 2017 without delay
9. Failure to pay the balance by the above date, will result in the place be vacated and offered to other interested students without any refund eligibility
10. If the student cancels for whatever reason, there are NO refunds
11. If the Fun Trip is cancelled by the organizers for whatever reason the student will receive a Full refund without any compensation eligibility of any kind
12. Students that require a visa, will need to make their own arrangements in acquiring one.
13. Medical and Travel Insurance is the responsibility of the traveling student